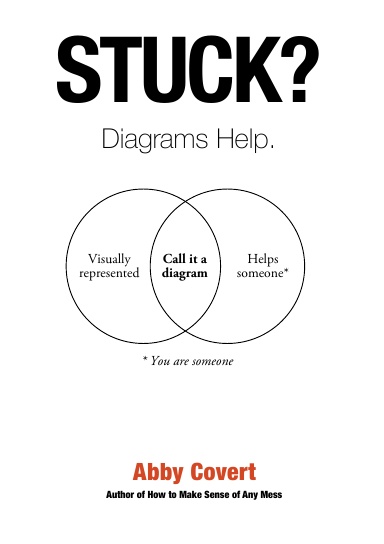 Stuck? Diagrams Help.
Usually printed in 3 - 5 business days
When was the last time you felt stuck? Maybe it was because of a decision you were struggling to make, a complex topic you were trying to understand, or a project with so many moving parts that you felt somehow both motionless and emotionful. There are obvious tools for when we are physically stuck: jaws of life, life rings, tug boats, and tow trucks, just to name a few. But what tool do we turn to when we feel this kind of emotionally stuck? Diagrams are visual representations that help. Especially when we feel stuck. Like emotional tow trucks, diagrams have been helping people for hundreds of years across industries, fields, and cultures when they feel this kind of stuck. Their labels are as diverse as the contexts they serve: charts, infographics, schemas, models, workflows, information visualizations, canvases, maps, figures, etc. but at their center diagrams are just shapes, lines and labels arranged to be helpful to someone. Even if that someone is the maker. The doodle to work out a point you want to make in a meeting? Diagram. The simple map used to highlight where the birthday party will be next weekend? Diagram. The instruction manual used to put together that new who-see-ma-bob? Diagram. The visual your team used to get to that big goal? That's right, it's a diagram. But wait!? If diagrams relate to that many paths, when are we actually taught how to diagram? And are we ever taught what it takes to make a diagram be good? For too many people, the answer is never and no. And I want to change that. This book teaches you how to diagram. There are plenty of books cataloging and analyzing beautiful diagrams that helped someone or a group of someone's who were stuck. And many books provide diagram templates or visualization methods that help in certain contexts and on specific types of problems. But there is a surprising lack of education on diagramming. Like where do you start? How do you know what to do first, next and last? And how do you know if what you are doing is working? This book aims to fix that.
Details
Publication Date

Jun 27, 2022

Language

English

ISBN

9798218020415

Category

Education & Language

Copyright

All Rights Reserved - Standard Copyright License

Contributors

By (author): Abby Covert, Afterword by: Jenny Benevento
Specifications
Pages

351

Binding

Paperback

Interior Color

Black & White

Dimensions

A5 (5.83 x 8.27 in / 148 x 210 mm)