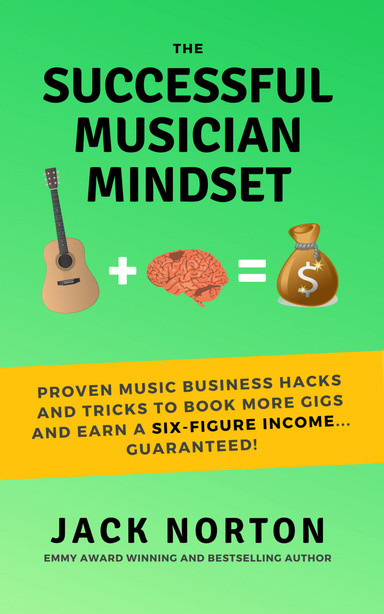 The Successful Musician Mindset
Proven Music Business Hacks and Tricks to Book More Gigs and Earn a Six-Figure Income...Guaranteed!
Do you dream of making a six-figure income with your music? Would you like to leave your job and be a full-time, touring musician? This book will show you how. I spent almost three decades making my living as a professional musician - playing over 300 shows a year. I make a very comfortable living - well into the six figures - every year, and have for over a decade now. I do not have a record label, a manager or an agent. I am 100% independent and run my entire business from my laptop, my phone and with my guitar. I am a master at booking great paying gigs - and I will teach you all the tips and tricks you need to know. This book is for any musician in any genre of music. Beyond the money - which is awesome - I am able to live the life of my dreams! I can not guarantee that this book will make you famous. I am definitely not famous. This is not a "get rich quick" scheme. This takes hard work. However, if you follow the steps in this book, I can absolutely guarantee that you will make money. Good money. And if you are really serious about your craft and about your business, I can guarantee without a shadow of a doubt, that you will make GREAT money by following the methods I outline in this book. Here are just a few things you will learn in this book: • How to easily book 300+ great paying shows a year! • How to earn a six-figure income from your music! • How to develop yourself as a marketable artist • How to send emails that will get results...gig bookings! • How to find gigs and contact venues successfully • How to form a "brand bible" around yourself • How to create a fan base and impressive social media stats • How to manipulate reality to be taken more seriously as an artist • How to focus on your true goals, desires and dreams • How to "give birth to a star"...you! • How to build an impressive team - from agent to record label • How to have an awesome website with the essentials to get gigs • How to build a website for almost no money • How to build a database of awesome gigs and leads • How to always get repeat bookings ...and so much more!
 This book includes multiple email templates which I have used successfully for the past decade to book gigs...you can copy and paste them to start booking your own shows immediately. As an added bonus this edition includes two bonus chapters - Tour Europe and The Contract - both are a nice addition to The Successful Musician Mindset, and will help take your career to the next level!
Details
Publication Date

Mar 16, 2022

Language

English

ISBN

9781458340047

Category

Music

Copyright

All Rights Reserved - Standard Copyright License

Contributors

By (author): Jack Norton, Edited by: Kitty Norton