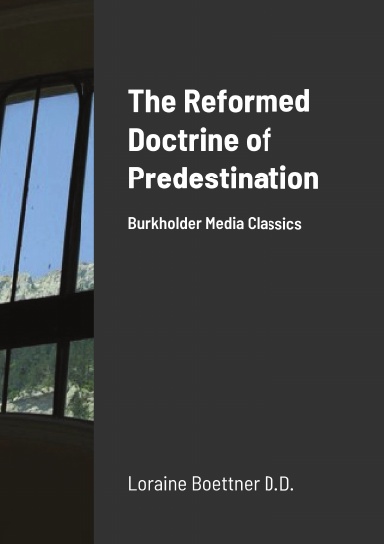 The Reformed Doctrine Of Predestination
Burkholder Media Classics
Usually printed in 3 - 5 business days
The purpose of this book is not to set forth a new system of theological thought, but to give a re-statement to that great system which is known as the Reformed Faith or Calvinism, and to show that this is beyond all doubt the teaching of the Bible and of reason. The doctrine of Predestination receives comparatively little attention in our day and it is very imperfectly understood even by those who are supposed to hold it most loyally. It is a doctrine, however, which is contained in the creeds of most evangelical churches and which has had a remarkable influence both in Church and State. Among the past and present advocates of this doctrine are to be found some of the world's greatest and wisest men. It was taught not only by Calvin, but by Luther, Zwingli, Melanchthon (although Melanchthon later retreated toward the Semi-Pelagian position), by Bullinger, Bucer, and all of the outstanding leaders in the Reformation. While differing on some other points they agreed on this doctrine of Predestination and taught it with emphasis. The great theologians of history, Augustine, Wycliffe, Luther, Calvin, Zwingli, Zanchius, Owen, Whitefield, Toplady, and in more recent times Hodge, Dabney, Cunningham, Smith, Shedd, Warfield, and Kuyper, held this doctrine and taught it with force. The book is sent forth with the hope that those who profess to hold the Reformed Faith may have a better understanding of the great truths which are here treated and may value their heritage more highly; and that those who have not known this system, or who have opposed it, may be convinced of its truth and come to love it. The question which faces us then, is, Has God from all eternity foreordained all things which come to pass? If so, what evidence do we have to that effect. and how is the fact consistent with the free agency of rational creatures and with His own perfections?
Details
Publication Date

Dec 5, 2020

Language

English

ISBN

9781716389207

Category

Religion & Spirituality

Copyright

No Known Copyright (Public Domain)

Contributors

By (author): Loraine Boettner D.D.
Specifications
Pages

540

Binding

Paperback

Interior Color

Black & White

Dimensions

A5 (5.83 x 8.27 in / 148 x 210 mm)