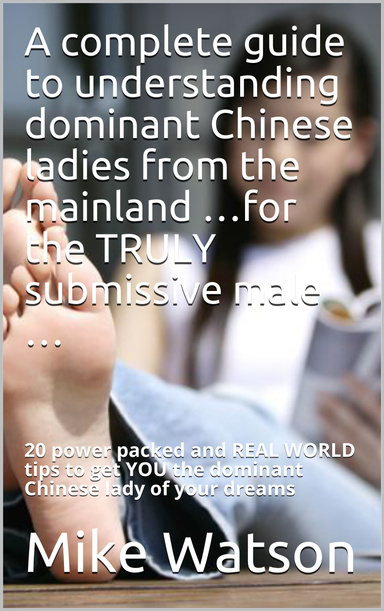 A complete guide to understanding dominant Chinese ladies from the mainland …for the TRULY submissive male …
20 power packed and REAL WORLD tips to get YOU the dominant Chinese lady of your dreams!
This book has been written for a very specific purpose, and more importantly a very specific niche, both of which should be apparent enough from the title. In a nutshell, this is for submissive males - - TRULY submissive males (as opposed to those who choose to "top from the bottom") and should be read with a mindset akin to this (if you aren't in the above category). It is submissive males looking to find the dominant lady of their dreams - - or more accurately the dominant Chinese lady of their dreams. Of course, most of what is mentioned herein is NOT specific to any particular ethnicity - - but I've found it to hold most true for the ethnic subgroup I have mentioned. A lot of what I say might come across as controversial. So be it. I've never been known (either in person or my books) for sugar coating things and NOT saying it like it is - if anything I've been brutally honest my entire life and this same style permeates my writing in all areas. If all of this sounds like a style you'd want to partake of, dive right in!
Details
Publication Date

Jul 21, 2020

Language

English

Category

Fiction

Copyright

All Rights Reserved - Standard Copyright License

Contributors

By (author): Mike Watson