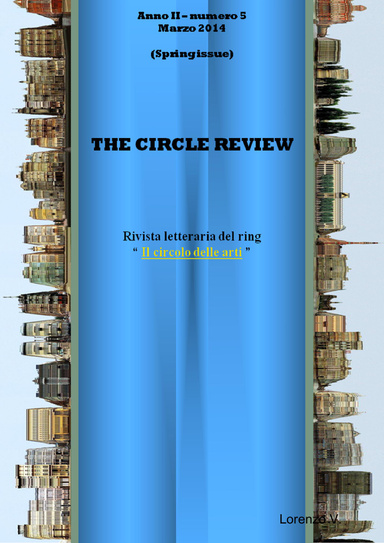 The Circle review - n.5 (Marzo 2014) Spring issue
THE CIRCLE REVIEW è una rivista letteraria trimestrale online promossa dal blog collettivo http://ilcircolodellearti.myblog.it e fondata dal creatore del blog collettivo Lorenzo V. (arteletteratura). Le categorie di scritti che saranno presenti in questa rivista sono, per la prosa: • novel & fiction, "romanzo e narrativa"; • essays, "saggistica"; • play in prose, "opera teatrale in prosa". Per la poesia, invece: • poetry, "poesia"; • play in verses, "opera teatrale in versi". Questa è una pubblicazione informale online, viene aggiornata e pubblicata senza alcuna periodicità e non può pertanto considerarsi un prodotto editoriale o una testata giornalistica ai sensi della legge n. 62 del 7.03.2001. I contenuti di questa rivista online rappresenta-no il punto di vista degli autori, salvo citazioni regolarmente attribuite agli autori/trici.
Details
Publication Date

Mar 17, 2014

Language

Italian

Copyright

All Rights Reserved - Standard Copyright License

Contributors

By (author): Lorenzo V.